Advertising tactics for the pod vape can be misleading as they claim to have a vitamin or natural ingredients that was promoted for health. However, these wellness claims on the label are clinically unproven which is not safe for the public. It has been reported that the use of vaping causes EVALI (E-cigarette Vaping product, use Associated Lung Injury)
Consumers are being preyed on by the marketing traps as manufacturers manage to claim their products are safe to use and treat a certain range of illnesses. The most common claims are:
dietary supplements, vitamins, natural ingredients
act as an inhaler, infuser, diffuser, vaporizer
wellness or aroma therapies
Yes, as scary as it may seem, consumers are still attracted to these type of advertisements as they do not have enough knowledge of the chemicals that were labeled in their packaging even though various efforts have been made globally. That is why it is important for the public to understand and be alert to certain chemicals that have been used in vape liquid production to avoid damage by harmful substances to their lungs.
Watch out for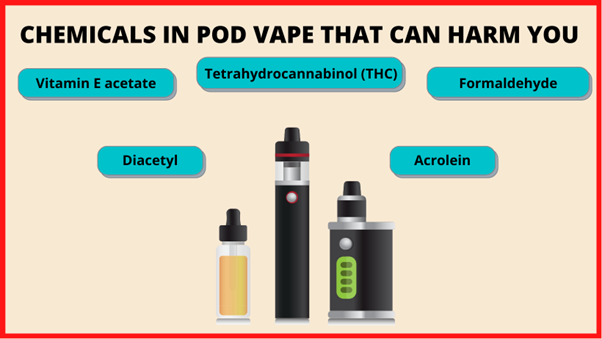 Tetrahydrocannabinol (THC)
It is one of the psychoactive ingredients. Dronabinol, a synthetic version of THC, has FDA approval for both appetite stimulation in HIV/AIDS anorexia and chemotherapy-induced nausea and vomiting management.
Even though THC has its own benefits as stated above, when inhaled it may irritate the lung's cell lining and affect its mechanism.
A population-based study on the side effects of cannabis on lung function shows that cannabis is linked to alterations in lung function that appear to follow a distinct pattern and are unrelated to the effects of tobacco smoke. Other studies compared lung function tests and CT scans of a convenience sample of volunteers who were smokers of either cannabis, tobacco, both, or neither. They found that cannabis was associated with hyperinflation
Hyperinflations happen because the trapped air causes the lungs to become larger than usual. It occurs when you are unable to fully exhale or push all the air out of your lungs. It may be more difficult to breathe in fresh air if the air is confined and takes up space in your body.
Safe to say, it is better to stay away from taking this substance up to your lung to preserve your healthy lungs.
Vitamin E acetate
While doctors and the public have long disagreed on the precise etiology of ailments linked to vaping, a recent study suggests that vitamin E acetate may be responsible for the recent rise in EVALI conditions.
The Centers for Disease Control and Prevention (CDC) has recognized vitamin E acetate as a potential toxin of concern due to its ability to persist in the lungs for extended periods of time and subsequently cause complications in the lungs. It is an oily chemical that is frequently added to THC vaping liquids to dilute or thicken them.
Diacetyl
This food ingredient is known to harm the tiny airways in the lungs and is used to intensify the flavors of e-cigarettes.
Diacetyl enables vaping businesses to offer flavors like fruit, candy, and dessert in which these tastes are more appealing, particularly to young folks. Consuming diacetyl orally is safe. However, diacetyl can permanently scar the lungs if it is inhaled.
Formaldehyde
This harmful substance has been linked to heart disease and lung problems. A team of researchers from the University of Nevada, Reno, and the Desert Research Institute (DRI) has published a pilot study that demonstrates how significant amounts of cancer-causing substances like formaldehyde are absorbed by the respiratory system during a typical vaping session. This is a major alert to the health authorities and the public on the impact of vaping on the lungs.
Acrolein
This herbicide, which is most frequently used to eliminate weeds, can harm the lungs. There is also evidence that acrolein may damage your DNA.
A study that was done previously by using saliva that was collected from volunteers after a 15-minute vaping session and analyzed the samples for chemicals that are known to damage DNA, shows that formaldehyde, acrolein, and methylglyoxal were three DNA-damaging substances whose levels rose in saliva after vaping.
Four of the five e-cigarette users demonstrated higher DNA damage attributable to acrolein exposure when compared to non-users. When poisonous substances, like acrolein, combine with DNA, it causes the kind of damage known as a DNA adduct. If the cell does not repair the damage, normal DNA replication can occur and cancer could result.
Comparing e-cigarettes and tobacco cigarettes is really like comparing apples and oranges. The exposures are completely different and the proper mechanism of its effects on the lungs has not been fully discovered yet. It is important for the consumers of vaping to report their signs and symptoms to the healthcare provider immediately. CDC suggests that young people, pregnant women, and those under the age of twenty-one should never use an e-cigarette or vaping goods. Adults should refrain from starting to use e-cigarettes or other vaping devices if they do not already.
References